Session band 燃える粉雪 (Moeru konayuki) has announced that after over a year with no activity, they will finally perform again! The live will take place on June 11th at Sendai HooK, and will mark the official end of chapter two of their lineup. Guitarist SADY says there will be a third chapter, however, and while the lineup hasn't yet been decided, he's pretty certain they will continue.
Along with this news, their OHP has been revamped, so please have a look!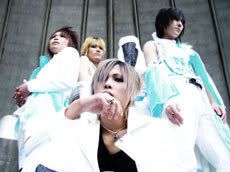 And as a short introduction, Moeru Konayuki is a session band from Sendai that was formed in December of 2006. Between 2007 to 2008 they released four CDs, one including a short history of Moecona DVD. As mentioned above, they took a long activity pause after their live on March 14th of 2008.
The band currently consists of the following members:
Vocal: 阿龍 (Aryu)
Guitar: SADY (exWedday/SAZAE the Movie)
Idol: ツバサ (Tsubasa) (exWedday/Psychic Force)
Bass: ナム (Namu)
Drums: キョン (Kyon)
Source: SADY's blog, OHP
Tags: Moeru Konayuki