Great news for SCREW fans!
It appears that ゆうと (Yuuto), ex-bassist of SCREW is back as 宮城由有 (Miyagi Yuu) and is acting as a support bassist for a non-Visual Kei band, bloom.
Yuu will be performing with them at their 4th one-man entitled 「4U」at Shibuya club asia, which is to be held on April 3rd!
Doors will open at 17:30 and the live will start at 18:00, and tickets will cost 2,500 yen
Yuu has also started a blog which is located here.
And of course, a photo of him.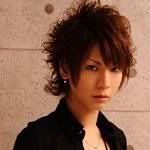 Source:
SCREW LJ community
Tags: SCREW